This summer has been HOT HOT HOT
with bookings across the board at Carrie Wheeler Entertainment Group.
Here are some of our film and tv highlights:
ALEX BARIMA - Joining the Season 2 cast of THE EXORCIST (FOX) in the Series Regular role of "Shelby" is Alex Barima, filming straight through until end of November. Alex will have to find a couple of days to sneak away to the Toronto International Film Festival (TIFF) this fall for the Premiere of Kyle Rideout's PUBLIC SCHOOLED, where he plays the Supporting role of "Wes", opposite a star studded cast including Judy Greer, Russell Peters and Grace Park.
ALEXANDER LOWE - It's a dream come true for both his character, and Alexander Lowe, working with iconic filmmaker Robert Zemeckis and opposite Steve Carell in a Supporting Lead role on the Universal Pictures feature WOMEN OF MARWEN. Alexander starts filming end of August straight through until November.
AREN BUCHHOLZ - These costumes and cars take us waaaaay back with Aren Buchholz filming the Supporting Lead role of "Kyle" on the crime/thriller SUMMER OF '84 (Brightlight Pictures), which is a No-More-Mr.-Nice-Guy reprieve from filming back-to-back Hallmark movies, THE WEDDING MARCH and GARAGE SALE MYSTERY. No rest for the wicked as Aren heads straight into Season 4 reprising his role of "Jesse Flynn" on WHEN CALLS THE HEART (Hallmark).
CHRISTOPHER COUTTS - Christopher Coutts Stars in the Lead role of "Davey" in the Canadian indie film, DAVEY THE HERO. Christopher also wrote the script which is being Directed by fellow Capilano University graduate, Andrew Crandell. The drama shoots through to end of August.
DYLAN PLAYFAIR - Dylan Playfair worked the red carpet in LA at the preview of Disney's DESCENDENTS 2, which premiered to 21 million viewers across six of it's networks. Dylan plays the Supporting Lead role of "Gil", son of Gaston, and was jet-setting in between filming back to back Guest Star episodes as "Kyle" on TRAVELERS (Netflix) and his Lead role of "Reilly" in the much buzzed about Canadian series LETTERKENNY (Crave TV) .
KERRY JAMES - Och aye, Kerry James is looking dashing on the set of THE PERFECT BRIDE (Hallmark) in the Supporting Lead role of "Rennie". Kerry trades in his kilt and sporran for chaps and a saddle as his character "Caleb Odell" returns to the ranch this fall in his 10th season of HEARTLAND (CBC/E1).
LEVI MEADEN - That's a lot of air-miles! Levi Meaden recently wrapped filming the role of "Ilya" on PACIFIC RIM: UPRISING (Universal Pictures) which took him through Australia and China. Levi returned closer to home in Malibu to head straight into filming the Lead role of "Sam" opposite Gabrielle Union in the thriller feature BREAKING IN (Universal Pictures), directed by James McTeigue. That's two studio pictures back to back for Levi!
MICHAEL KARL RICHARDS - "Tough day on set!" teases Michael Karl Richards while filming the feature OVERBOARD (MGM), a remake with a twist of the 1987 comedy. Michael just wrapped his Series Recurring role of "Wes" on CHESAPEAKE SHORES (Hallmark) which filmed on Vancouver Island. Watch for Michael making waves in his Guest Star role of "Randy" this season on TRAVELERS (Netflix).
PALOMA KWIATKOWSKI - Paloma Kwiatkowski can't contain her excitement after being cast in a Supporting Lead role opposite Johnny Depp in the feature film RICHARD SAYS GOODBYE (IM Global). Paloma sure can use a little comedy in her life after playing an Eco-Terrorist in her Guest Star role of "Abigail Parais" on TRAVELERS (Netflix) and a murder suspect Guest Starring as "Deb Macbeth" in Hallmark's GARAGE SALE MYSTERY.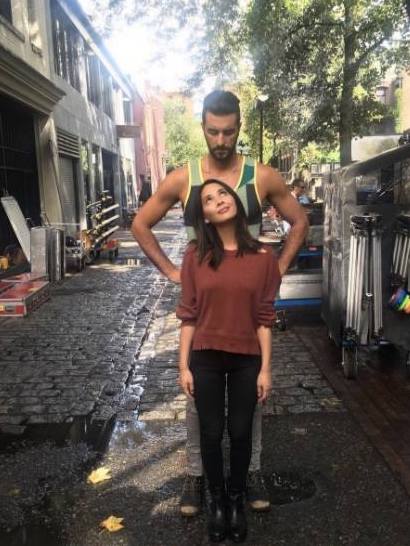 VLADIMIR RUZICH - Too cute not to share! Check out this Insta post of Vladimir Ruzich on set of A&E's SIX working opposite (or above?!) Olivia Munn. Don't let his physicality and intimidating roles on the likes of ONCE UPON A TIME (CW) fool you, Vladimir is really just a great big sweetheart - and a newlywed to boot!